委托生产
我们拥有长年累月所积累下来的合成技术,可以随需求满足从工艺开发到GMP委托生产。

GMP少量生产设备的完备,结合上我们已经拥有的GMP大型设备及多功能性设备,
使得我们能够灵活应对从数百克到大批次的生产。
基于ICH-GMP的标准,通过DMF和CEP的注册,FDA审查等经验,使得我们拥有了过硬的品控管理体制,
可以提供让客户满意的委托生产服务。
另外,我们在EHS投资方面也是不遗余力。
Contract Manufacturing Flow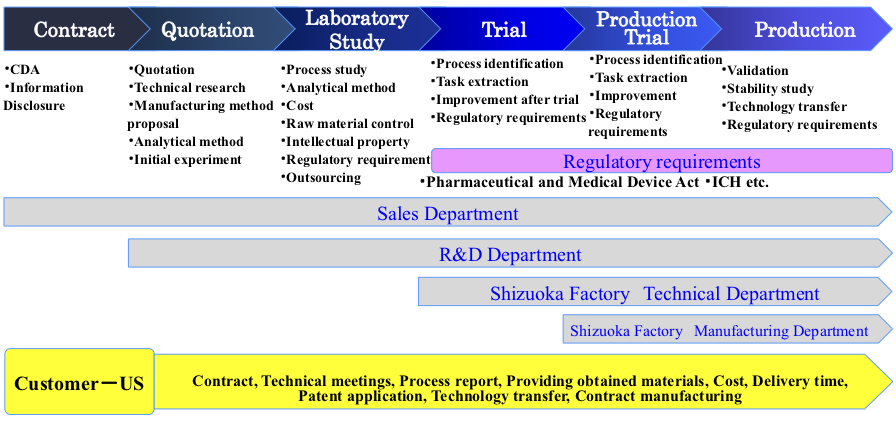 Main Facilities
Pilot Plant
Facilities
Specification
Capacity
Quantity
Reactors
Normal Pressure, -5~140℃(200℃)
Glass Lining
10L
5
Glass Lining
300L
5
1,000L
1
Stainless
300L
3
500L
1
Autoclave
~10kg/cm2, -5~140℃
Stainless
200L
1
Vacuum Distilling Apparatus
3mmHg, ~200℃
Stainless
200L
1
Centrifuge
Top emission type, Stainless
φ12 inches
1
φ20 inches
2
φ30 inches
1
Filter Separators
Pressurization, Stainless
2
Reduced pressure, Stainless
2
Dryers
Shelf- fan dryer, Stainless-steel
1
Shelf-type vacuum dryer, Stainless
1
Conical type vacuum dryer, Stainless
30L
1
Clean Room
Clean level: 100,000/ft3
Ventilation: 20 times/hr or more
1
Freezer
Medium -20℃
3600kcal/hr
1
Commercial Plant
Facilities
Specification
Capacity
Quantity
Reactors
Normal Pressure~100mmHg, -5~140℃(200℃)
Glass Lining
2m3~10m3
41
Stainless
1m3~10m3
67
Ti clad
2.5m3
2
Autoclaves
~10kg/cm2, -5~140℃
Stainless
2m3~4m3
5
Glass Lining
4m3
1
Photo-reactor
600〜700nm
Stainless
Sodium Lamp
1
Vacuum Distilling Apparatus
3mmHg, ~180℃, N=12
Stainless
1m3~7m3
3
Centrifuges
Bottom emission type, Stainless
φ24~55 inches
5
Top emission type, Stainless
φ24~55 inches
21
Filter separators
Pressurization, Stainless
18
Reduced pressure, Stainless
29
Reduced pressure, FRP
1
Dryers
Shelf-type fan dryer, Stainless
22
Conical type vacuum dryer, Stainless
2~2.5m3
6
Clinical type vacuum dryer, Glass Lining
2m3
2
Nauta-type vacuum dryer, Stainless
1m3
3
2m3
5
Mills
Pin mill, Stainless
9
Hammer mill, Stainless
3
Power mill, Stainless
1
Feather mill, Stainless
1
Jet mill, Stainless
1
Clean Rooms
Clean level: 100,000/ft3
Ventilation: More than 20 times/hr
Centrifuge rooms
10
Drying rooms
11
Milling rooms
12
Ice Maker
Stainless 2.4t/day
1
Wastewater treatment
Activated sludge
Freezers
Medium -20℃
Inside -10 ~ -5℃
46kW
16
Main Analytical Equipment (Shizuoka Factory)
We have necessary analytical equipment for product quality control.
We operate accordance with data integrity.
We can use
the equipment of R&D in Tokyo
depending on the customer's requirements.
Equipment
Specification
HPLC
High and low pressure gradients
Detector: UV, UV-VIS, RI
GC
Detector: FID
Equipped with a head-space sample injection device
ICP-MS
Responding to elements subject to ICH-Q3D Step 4
Responding to organic solvents
FT-IR
7800~350cm-1
UV-visible spectrophotometers
190~900nm
Karl Fischer moisture meter
Volumetric procedure
Coulometric titration
Potentiometric titrator
pH 0.00~14.00
Polarimeter
589nm (Na)
Particle size distribution analyzer
Laser diffraction type(dry and wet), microscope type, air permeability method
Main Reactions
Technologies in
orange highlighted
are our specialty technologies.
Acylation
Acid chloride, acid anhydride, etc.
Amidation
Ammonia, amines, etc.
Amination
By reduction of nitro and nitroso, and by using amines
Alkylation
Dialkyl sulfuric acid, alkyl halide, etc.
Esterification
Various organic and inorganic acids, and alcohol
Reduction

By catalytic hydrogenation

, using NaBH4, sulfurous acid, etc.
Grignard reaction
Chlorination
NaOCl, SOCl2, PCl3, POCl3, etc.
Enantiomer synthesis
Asymmetric reduction,

Optical resolution

Enzymatic reaction
Asymmetric hydrolysis, hydrolysis
Kolbe-Schmitt reaction
Carbon dioxide
Oxidation
Using H2O2, NaOCl, etc.
Diazotization
NaNO2
Cyanation
-CONH2 → -CN
Suzuki-Miyaura coupling
R-B(OH)2, Pd/C
Sulfonation
Sulfuric acid, fuming sulfuric acid, sulfur trioxide-pyridine complex
Nitration
Nitric acid, mixed acid, etc.
Nitrosation
NaNO2
Glycosidation
BF3, methanesulfonic acid
Photo-oxidation
Sodium lamp
Friedel–Crafts reaction
Acylation, Alkylating
Bromination
Br2
Formylation
HCHO, Vilsmeier reaction, etc.
Mitsunobu reaction
Phosphorylation
POCl3, PCl3
Other organic synthesis reactions
Our technology
Catalytic reduction
We have well knowledge and many experiences of actual production relating to catalytic reduction.
We will select and provide the best reduction condition based on customer's reaction.
In addition, we have established safe and reliable handling operations from charging to recovery.
We have also realized cost reduction through recycling in collaboration with catalyst manufacturers.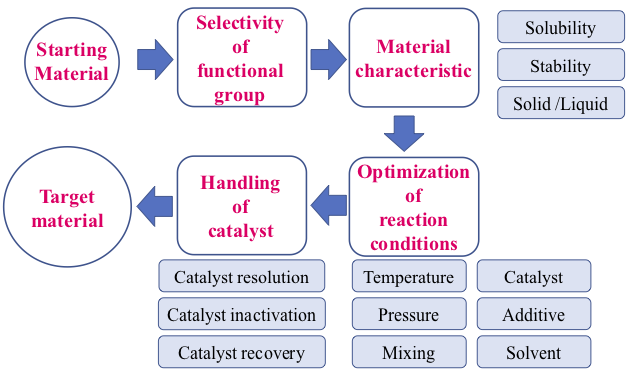 Example of catalytic reduction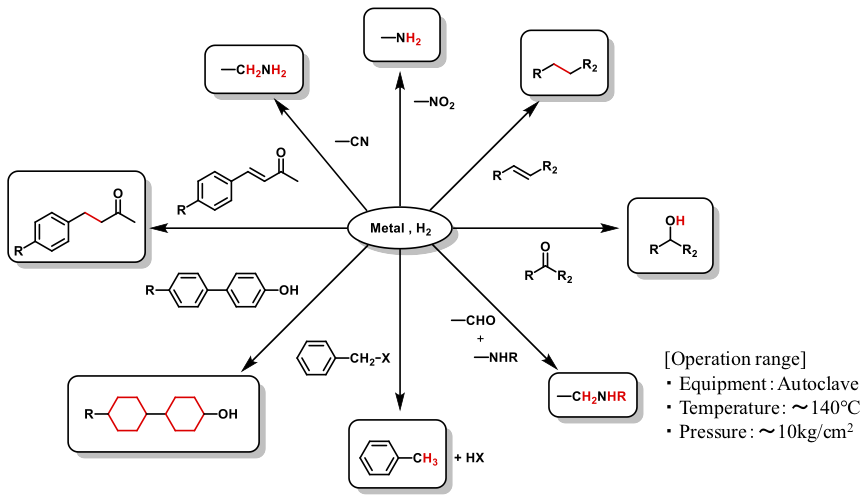 Photo-Oxidation
Bromination
We have bromine tank system, so we can use bromine itself.
Friedel-Crafts Reaction
Kolbe-Schmitt Reaction
We use Aluminum Chloride.
We have know-how on removing by-produced Aluminum Hydrochloride.
Reaction can be made under mild condition.
Suzuki-Miyaura Coupling
We can manufacture in actual equipment based on know-how regarding the use of Pd catalyst.